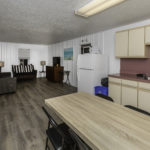 Motel rates do not apply to Holidays, Weekends, Conventions, Groups and Reservations made after May 1.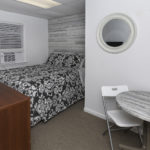 In Season
Extra Person $25
Off Season
Extra Person $20
Room Photos
Room Descriptions
2 BEDROOM CONDO
SLEEPS 4-8 PEOPLE
2 ROOM EFFICIENCY
SLEEPS 2-6 PERSONS
A UNIT
B UNIT
C1 UNIT
OCEAN VIEW MOTEL ROOM
SLEEPS 2-4 PERSONS
2 ROOM BREEZEWAY EFFICIENCY
SLEEPS 2-6 PERSONS
2 ROOM EFFICIENCY
1ST FLOOR
POOL FRONT
SLEEPS 2-4 PERSONS
C2 UNIT
D UNIT
E2 UNIT
OCEAN VIEW EFFICIENCY
SLEEPS 2-4 PERSONS

ONE ROOM EFFICIENCY
SLEEPS 2-4 PEOPLE

DELUXE OCEANFRONT
2 ROOM EFFICIENCY
SLEEPS 2-6 PERSONS

F UNIT
G UNIT
ONE ROOM VIEW EFFICIENCY W/KING BED
SLEEPS 2 PERSONS
TWO BEDROOM UNIT
2 DOUBLE BEDS, QUEEN BED, SLEEPER-SOFA
SLEEPS 6-8 PERSONS
Motel Rates
*Please note:
Child
denotes child of 14 years of age or younger.
Please Read Before Reserving
Cancellation Policy:
Cancellations outside of two weeks prior to a reservation, 50% of the deposit is refunded if, room is re-rented. Cancellations two weeks immediately preceding the reservation date, the deposit is non-refundable. No Exceptions. This policy is non-negotiable. May 1st-October 1st, Deposit is Non-Refundable. 5% credit card transaction fee.
Due to space parking space limitations, only 1 parking space per unit.
Reservations held until 5:00 pm unless otherwise noted.
Check-in Time: After 4:00 pm.
Check-out time: Before 10 am.
Deposit: 2 Days rental within 7 days after phone reservation.
Personal checks accepted on deposits only.
There is a 5% transaction fee on all credit card deposits and credit card payments paid in full on time of arrival.
We accept Visa, MasterCard and Discover credit cards only
No refunds on deposits between May 1 and October 1. No exceptions.
Outside of the above dates, if we are able to re-rent your room you will receive a 50% refund on your deposit. No exceptions.
Children are considered 14 years of age and younger.
Adults are considered 15 years of age and older.
Sorry, no pets.
When cancelling a reservation, you will receive a 50% refund only if we are able to rent your room.
All reservations are final and therefore subject to strikes, failure of guests to vacate, or causes or conditions beyond our control. Moreover, we must be notified 24 hours in advance of a change of persons on your reservation.
All prices shown exclude tax, therefore all guests will be charged the current tax rate at the time of transaction.
All rooms are non-smoking, consequently we will charge a $125 SMOKING FINE for smoking in any room.